Prague Parks & Wildlife
One of the most celebrated cities in the world, Prague (Praha) has many attractions to keep you happy during your visit.
The numerous parks and wildlife centres in the city are places that will not only rejuvenate you but also will make up for exciting play areas for your kids also. Most of the parks are perfect places to relax, walk and are decked with things like swings, sandpits, jungle gym, etc.
The wildlife parks like the Prague Zoo and the Crocodile Park are excellent educational institutions where you can view and study the animal life. The top amusement and water parks including iPILOT Prague, Aquacentrum Sutka, Aquadream offer great fun and entertainment.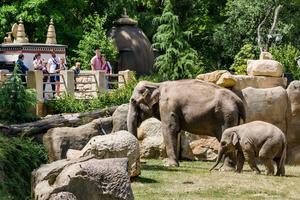 Prague Zoo
Prague Zoo (Zoo Praha)
Established in 1931, the Prague Zoo (Zoo Praha) aims to protect wildlife, educate the public and most importantly study zoology. The zoo occupies an area of 58 hectares and represents around 4,200 animals from approximately 650 species. Some of the species are threatened to be extinct. Animals like polar bears, gorillas, seals, Komodo dragons, giraffes, various types of monkeys and deer, etc. can be found here.
Opening Times: Open Daily Nov. to Feb. 9am - 4pm; Mar. 9am - 5pm; Apr. to Oct. 9am - 6pm
Address: U Trojskeho zamku 3/120, 171 00 Praha 7, Czech Republic.
Tel.: +420 296 112 230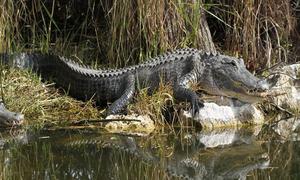 Crocodile Zoo Prague
Crocodile Zoo Prague (Krokodýlí Zoo Praha)
The Crocodile Zoo in Prague is a place where you will learn all about the crocodiles, alligators and the caimans, and know all about their life and life cycle. Located at Tusarova, here you can even watch the crocodiles being fed. The place organises regular guided tours and also has a gallery dedicated to the works of best wildlife photographers from Czech.
Opening Times: Mon. closed; Tues. to Wed. 11am - 5pm; Thurs. 1pm - 7pm; Fri. 11am - 5pm; Sat. to Sun. 10am - 5:30pm
Address: Tusarova 1548/39, 170 00 Praha 7, Czech Republic.
Tel.: +420 728 492 488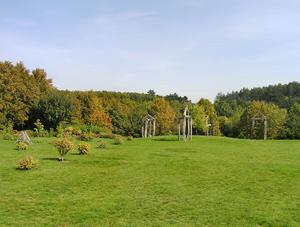 CC / Packa
Prague Botanical Garden (Botanická Zahrada hl.m. Prah)
Spread across 30 acres the Prague Botanical Garden houses vineyards, Japanese gardens, a tropical greenhouse Fata Morgana, and numerous trees belonging to various species. The park offers a refreshing respite from the busy city life and is a great place to have strolls and picnics. The park offers guided tours and is easily accessible from the city.
Address: Trojská 800/196, Praha 7, Troja 171 00, Czech Republic.
Tel.: +420 234 148 111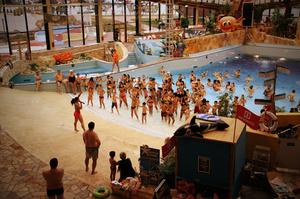 Aquapalace Prague
Aquapalace Prague (Aquapalace Praha)
The Aquapalace Prague is considered to be one of the largest aqua parks in Europe. It is one of the most visited attractions in Prague and consists of facilities like a water park, a sauna, physiotherapy and medical rehabilitation centre, etc. It is a perfect destination to spend a fun day for families, fitness freaks and also experienced swimmers.
Opening Times: Water Park: Mon. to Fri. 10am - 10pm; Sat, Sun. & Holidays 9am - 10pm
Sauna World: Mon. to Fri. 10am - 11pm; Sat, Sun & Holidays 9am - 11pm
Address: Pražská 138, shopping zone Průhonice, Čestlice 251 01 Praha - východ, Czech Republic.
Tel.: +420 271 104 111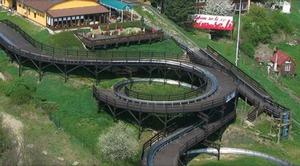 BOBOVÁ Prosek
Bobsleigh Track (Restaurace Bobová dráha)
Get some adrenaline pumping action while in Prague by visiting the Bobsleigh Track. The Bobsleigh Track runs for about 1km and gives you an exciting ride which can go for 62km per hr. It is a fun place which will be equally enjoyed by everyone right from the parents to the kids. This place also has a restaurant which serves refreshments and drinks.
Address: Prosecká 430/36, 190 00 Praha 9, Vysočany, Czech Republic.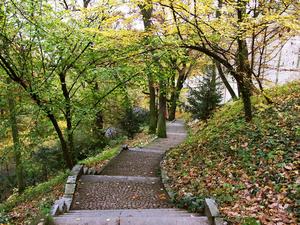 Aktron/CC BY-SA 3.0

Petrin Hill (Vrch Petřín)
The Petrin Hill is located in the heart of Prague and is an expanse of lush greenery beside the Vltava River. The hill is mostly covered with parks and is a popular leisure spot for the locals and tourists alike. Places like the Petřín Lookout Tower, Mirror Maze, Rose Garden, St Michael Church and St Lawrence Cathedral are situated on this hill.
Address: 118 00 Prague 1, Czechia.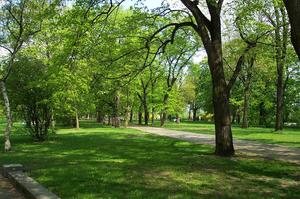 Aktron/CC BY-SA 3.0

Letna Park (Letenské sady)
The Letna Park was constructed on the site of former wine yards in the nineteenth century. The park gives out striking views of the Prague Old Town due to its elevation. A large monument of Joseph Stalin was once erected at the park but it was ruined later. Currently, the Prague Metronome is placed on that site.
Address: 170 00 Prague 7, Czech Republic.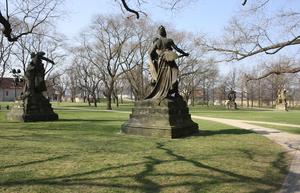 Michal Klajban/CC BY-SA 3.0
Vyšehrad Park
The lush and refreshing Vyšehrad Park lies on the Vysehrad in Prague. It presents stunning views of the Prague Castle and the Vltava River and also offers things like cafe's, restaurants and kids playground. Several statues adorn the park like that of the St. Wenceslas and many more which depicts the famous personalities of the country.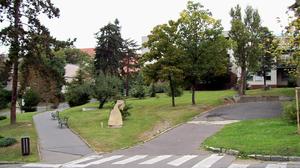 Kacir/CC BY 3.0

Vinohrady
A cadastral district in Prague, Vinohardy gets its name from the area being covered by vineyards in the 14th century. From 1867 to 1968, it was called as Královské Vinohrady (Royal Vineyards) and it became a part of Prague in 1922. In 1949, the ruling communists split Vinohardy into municipal districts located in the municipal and administrative districts of Prague 2, Prague 3 and Prague 10, because it was called as the "bourgeois" district, thereby being politically unreliable. Havlíckovy Sady is one of the tourist attractions of the district and is Prague's second largest park. There is a Gröbovka Park, next to Havlíckovy Sady, where a productive vineyard is in operation.
Address: 120 00 Prague 2, Czech Republic.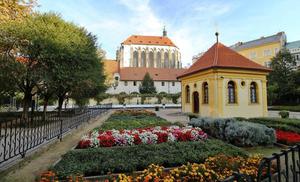 VitVit/CC BY-SA 4.0

Franciscan Gardens (Františkánská zahrada)
The Franciscan Gardens is situated near the places like Wenceslas Square, Jungmannovo Square and Vodičkova. Sitting next to the Church of Virgin Mary of the Snows, the garden is a gorgeous place for relaxation. It also has a playground with swings, slides etc. for the kids.
Address: 110 00 Prague 1, Czech Republic.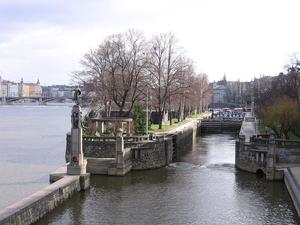 Jvs/CC BY-SA 3.0

Children island (Dětský ostrov)
The Children island is a perfect place to take your kids after visiting all the historical and cultural places around the city. This place is located near the Mala Strana and Smichov. The island is well equipped with things like slides, swings, climbing nets, wooden houses, sandpits, wooden boats, etc. to keep the kids happy and entertained.
Address: Dětský Island, Smíchov, 150 00 Prague 5, Czech Republic.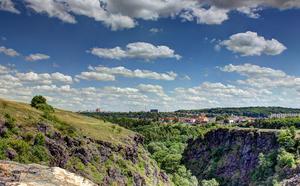 Iliusvla/CC BY-SA 3.0

Wild Šárka (Divoká Šárka)
The Divoká Šárka lies just on the outskirts of Prague and is a nature reserve. It boasts of a gorge, a natural lake i.e. the 'Dzban', some canyons, waterfalls and also a natural swimming pool. Visitors can have a swim, enjoy hiking trips and have stunning views of the total scenery. A must visit place for all the trek and adventure lovers.
Address: 161 00 Prague 6, Czech Republic.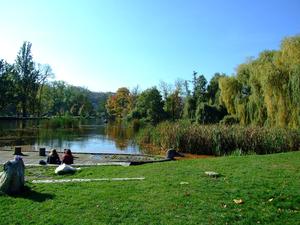 Aktron/CC BY-SA 3.0

Stromovka
The Stromovka is a perfect place to chill out and relax after a busy day as the park is filled with age-old trees which also gives the place its name, ie. Stromovka - a place of trees. You can enjoy activities like running, biking, skateboarding and rollerblading along with having refreshing picnics and barbeques in this park.
Address: 170 00 Prague 7, Czech Republic.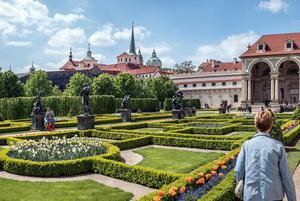 Jerzy Strzelecki/CC BY-SA 3.0

Wallenstein Palace Gardens (Valdštejnská Zahrada)
The Wallenstein Palace Gardens lies on the southern side of the Wallenstein palace. The construction of the garden was undertaken with the palace itself and is designed in the Baroque style with Mannerist layout. In the summer season this place holds numerous events like concerts, live shows and theatrical performances.
Address: Letenská 123/4, 118 00 Malá Strana, Czechia
Recommended Activities