Prague Travel Tips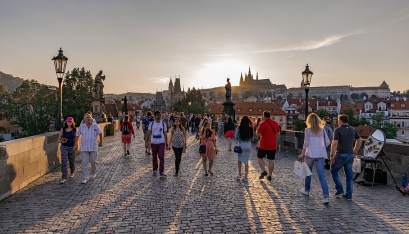 The public transportation system in Prague is one of the most convenient and economical systems in Europe. Two-third of city's population makes use of metro, trams and buses. The public transportation system covers most of the areas tourists are likely to visit frequently.
Visitors can buy a tourist pass which enables them to use any type of public transportation as many times as they want within the time period for which the pass is valid.
Get in
By Air:
Prague's Ruzyne International Airport is a major airport of the Czech Republic. It is situated 20km north-west of the city centre and can be reached within 30 minutes by car. This Airport has daily flights from European and North American cities on national and budget carriers. The national carrier, Czech Airlines offers its services to many European and international destinations, including New York and Toronto. Some airline companies provide cheap direct flights to Prague.
The airport is well connected with the city by buses, shuttles and taxis. The journey takes around 30 minutes to reach the city centre.
By Train:
This is the most comfortable and easiest way of travel. Prague is connected with Berlin, Vienna and Budapest by Eurocity trains. The city has two international stations namely Hlavni Nadrazi - the central station, and Praha Holesovice. Both the stations are linked with metro line C. It takes 4 - 4.5 hours from Vienna, 6.5 hours from Budapest and 5 hours from Berlin to reach the city. The city also has some Super City Pendolino trains that offer faster options of travel.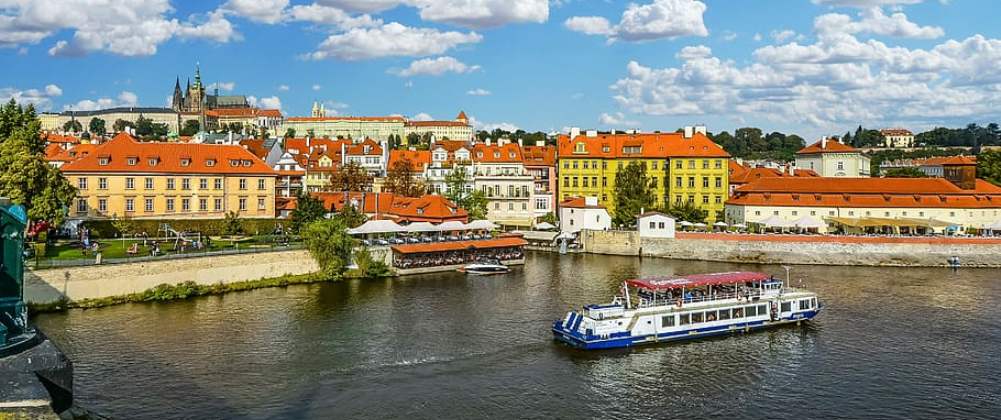 By Road:
The city is connected with surrounding countries by highway connections from five major directions. So you can reach Prague by bus or car. Florenc, Krizikova (metro lines B and C) is the main bus station for international buses in Prague, and is located to the east of the city. Major European cities are connected to Prague by Eurolines.
Getting around in Prague
Metro (Subway):
Metro is the most efficient, fast and highly integrated way of transport in Prague. Daytime metro runs from 05.00am to midnight. It is used by around 400 million passengers per year and its three lines cover all areas of the city. This safe means of transport mostly runs underground and has about 50 stations in Prague. The subway system covers long distances in a matter of minutes. One can easily reach subway stations. Subway lines offer their service every 2 - 3 minutes during peak hours and every 10 minutes at other times.
The three metro (subway) lines are:
• Line A (Green): From Skalka to Dejvicka running east to west
• Line B (Yellow): From Cerny most to Zlicin running east to west
• Line C (Red): From Ladvi to Haje running north to south.
The three transfer stations where two lines intersect each other are:
• Mustek (lower end of Wenceslas Square): lines A and B
• Muzeum (upper end of Wenceslas Square): lines A and C
• Florenc (main bus station): lines B and C
Tram: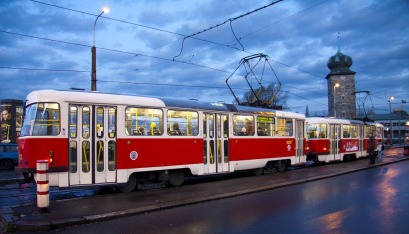 Prague tram has 500km of tracks in the city and covers large areas of the city. It carries around 300 million people a year. Day time trams operate from 4:30am till midnight in 8 - 15 minute intervals. The night time trams run from 00:30 to 04:30 at morning.
Some trams cover most scenic routes of the city running through the city centre. Some useful routes: Trams 9, 22, 23 and 91.
City Buses (Autobusy):
City buses are mostly used to reach the outskirts of Prague city. Daytime buses operate from 4:30 a.m. till midnight in 5 - 15 min. intervals in peak hours on working days, 10 - 20 min. intervals at off-peak, and 10 - 30 min. intervals on weekends. The night buses are also available in the city which run from 00:30am till 4:30am at 40 min. intervals.
Funicular railway:
The funicular railway, which climbs Petrin hill, starts at the Ujezd tram stop in Mala Strana. Enjoy the stunning views of the whole of Prague while travelling by this railway.
Taxi:
Getting around Prague by public transportation is always the better choice, and makes one forget the existence of taxi services or car hire services in Prague. If one has to use taxi to get around, use the service of a reputable taxi company for fair rates.
Walking:
The best way to explore and enjoy the original Prague! Walk around most parts of the city starting from Wenceslas Square to the Old Town Square or from the old town to Charles Bridge and the Palace district.
Safety
Prague is a very safe city with almost no crimes. Petty thefts, pick pocketing and car thefts do happen in the city though. Do not leave your bags unattended in public areas such as popular tourist spots, trams and metros. Avoid taking late night walks in unlit areas. Do not leave your handbags hanging from a chair in restaurants or other public places. Some problems that tourist may encounter are extra charges on your bill by the waiter, high fares by the taxi driver by adjusting his meter, hotels charging high rates by their contracted taxi and even commission charges up to 10% by exchange offices in the city. Tourists may be the targets of prostitutes in the late night around Wenceslas Square. To lodge any complaints contact the Czech Retail Inspection Office.
With all things said, Prague is really a safe city with a low crime incidence. However, as in any popular tourist spot, you need to be wary to avoid getting ripped off.
Recommended Activities