Prague Travel Tips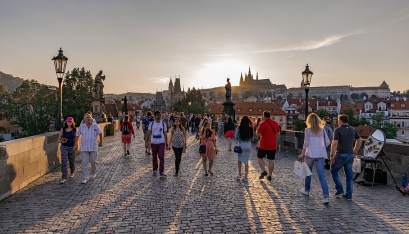 The public transportation system in Prague is one of the most convenient systems in Europe. Two-thirds of the city's population uses metro, trams and buses. The public transportation system covers most of the areas tourists are likely to visit frequently.
Tourists can purchase Prague Visitor Pass and enjoy unlimited travel on public transport throughout Prague, including to and from the airport.
Get in
There are several ways to go to Prague, the capital city of the Czech Republic:
By plane:
You can fly to Vaclav Havel Airport Prague (PRG), which is located about 20km from the city centre. Many airlines offer flights to Prague from different parts of the world. The airport is well-connected to the city by buses, shuttles and taxis. The journey takes around 30 minutes to reach the city centre.
By train:
Prague is well-connected to the European EC train network, and you can easily reach the city by train. The main railway station in Prague is the Praha hlavní nádraží (Prague Main Railway Station). This is the most comfortable and cheapest way of travel from many European cities like Berlin, Vienna, Warsaw, Rijeka, Munich and many more.
By bus:
Prague is well-connected to major cities in Europe by bus. Several bus companies operate services to Prague from different parts of Europe. Florenc is the main bus station for international buses. Regional busses mostly use Na Knížecí bus station.
By car:
You can drive to Prague by renting a car or using your own vehicle. However, driving in the city can be challenging due to traffic and parking issues.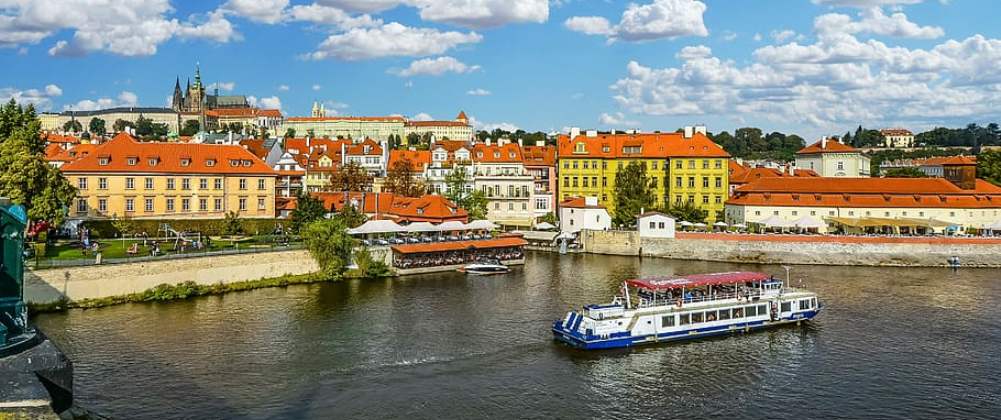 Getting around in Prague
Prague has an efficient and well-connected public transportation system, which includes metro, trams, and buses. To prevent air and noise pollution, public transport buses do not enter historic districts like Old Town, New Town, Lower Town, etc.
Here are some options to get around in Prague:
Public Transportation: Prague's public transportation system is easy to use, reliable, and affordable. You can buy tickets at ticket machines located at the metro stations or at newsstands. The tickets can be used for all modes of transportation and are valid for a certain period. You can also buy a day or multi-day pass if you plan on using the system frequently.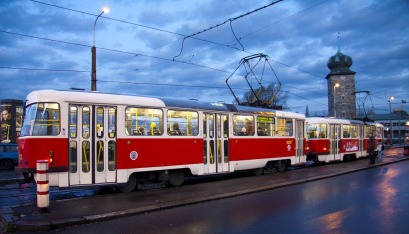 Tram:
The Prague tram system operates various types of trams, including the Tatra T3, Tatra KT8D5, Škoda 14 T, Škoda 15 T etc. The Prague tram system is the twelfth longest in the world, with over 850 cars. Around 360 million passengers use the tram system every year.
Funicular railway: The funicular railway, which climbs Petrin hill, starts at the Ujezd tram stop in Mala Strana. Enjoy the stunning views of the whole of Prague while travelling by this railway.
Taxi: Taxis are available in Prague but are more expensive than public transportation. Make sure to use a licensed taxi company to avoid scams. The best is to use a taxi app or major taxi services. Uber is also available in Prague and might be a more affordable option. Liftago is the local equivalent to Uber, which uses official cabs.
Walking: Prague is a very walkable city, and many of its prominent sightseeing places are located close to each other. Walking can be a great way to explore the city and discover hidden gems.
Bike: Prague is not a bike-friendly city, but still, there are some bike lanes on the streets and bike paths. Prague has several bike-sharing systems like Rekola, and Nextbike, which allow you to rent a bike and explore the city on two wheels. You can rent a bike through the app; the first 30 minutes of each rental are free.
Scooter: Electric scooters (E-bikes or E-scooters) are available in Prague and can be rented through their apps. Scooters can be a fun and convenient way to get around, but make sure to follow the rules and be careful on the busy streets.
Overall, Prague is a very tourist-friendly city, and getting around is relatively easy. Just make sure to plan ahead and choose the transportation option that works best for you.
Travel Safety Tips
Here are some travel safety tips to keep in mind while visiting Prague:
Be aware of pickpockets and thieves: Prague is a popular tourist destination, and pickpocketing is a common problem in crowded areas like popular tourist attractions and public transport. Keep your belongings close to you, and use anti-theft bags to secure your valuables.
Be careful when using ATMs: Skimming is a problem in Prague, so be careful when using ATMs. Choose ATMs located in well-lit areas, and cover your hand when entering your PIN code.
Stay on well-lit and busy streets: Avoid walking in dark and isolated areas at night. Avoid walking alone and stick to well-lit and busy streets.
Use licensed taxis: Avoid hiring unlicensed taxis, as they are often overpriced and may be unsafe. Use licensed taxis or Uber instead, and always confirm the price before getting in.
Be cautious when accepting drinks from strangers: Like many other tourist destinations, Prague has its fair share of scams, including the "drugging" scam. Be cautious when accepting drinks from strangers, and never leave your drink unattended.
Be mindful of traffic: Prague can be a busy city, and traffic can be chaotic. Always be mindful of traffic when crossing the street, and use designated crosswalks.
Respect local customs and laws: Finally, respect local customs and laws. Dress appropriately when visiting churches and other religious sites, and avoid public displays of affection.
Once you arrive in Prague, you can use the city's public transportation system, which includes trams, buses, and metro to get around the city. You can also explore the city on foot or by renting a bicycle.
Recommended Activities