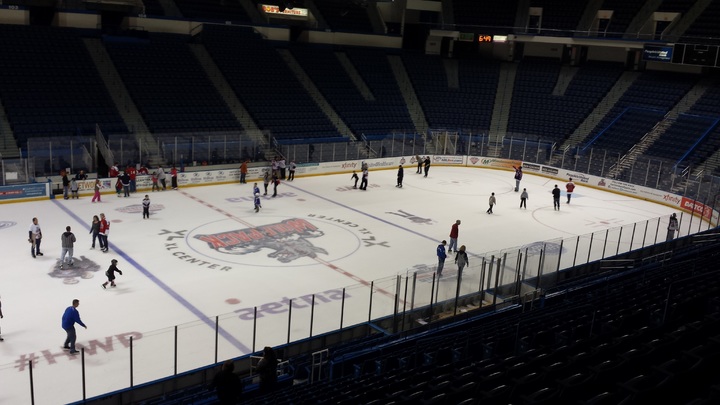 Prague
is a tourist city for all seasons. Especially, in winter, it magnetizes skaters and ice skiers with various ice skating rinks. Considering that the Czech Republic is home to one of the most successful ice hockey teams, Prague has plenty to live up to. And thankfully it doesn't disappoint! There are three types of ice rinks in the city: Ice rinks in public places within the city, ice rinks within hockey arenas, and ice skating on ponds, lakes, rivers and water-reservoirs; whenever and wherever the weather permits it.
Ice skating is a cheap sport that can be enjoyed for very little cost. The entry cost is generally around 50 CZK which most of the times is half for children. Ice skate rentals are inexpensive but if required you can also buy ice skates at stores like Hervis Sports, Sportissimo, Giga Sports or any other large sports store.

Learning to ice skate is not so difficult if you know how to roller-blade efficiently. But, remember that wearing gloves while ice skating is recommended in case you fall, just to avoid any injuries.

Some of the places where tourists can enjoy the sport of ice skating are:

Gutovka: The Gutovka sports centre uses naturally formed ice at its large ice skating rink. Located close to Strašnická Metro station, the opening hours are between 10 a.m. and 10 p.m., unless otherwise mentioned. It also offers a unique ice wall for climbing.

Na Františku: The Na Františku in Old Town is also well known for its artificial ice skating rink. Located near the Na Františku hospital grounds, the premises are very well maintained as well it is very close to the city centre. Rentals are available at the center.

On Vltava River: In severe winter conditions, many ice skaters find it enthralling to ski on frozen rivers and streams. At times, Vltava Rivers does freeze enough to make skiing easy, but there's always the risk. Falling through ice can be an invitation to hypothermia and potential death! Ski on the Vltava River at your own risk!
Some other places where public ice skating is possible:

Stadion HC Hvězda Praha
Address: Na rozdílu 752/1, Praha 6 - 160 05
Fax: 235 364 057
Tel: 235 352 759

Stadion Curling Promo
Address: Komárkova 1299/12, Praha 4 - 148 00
Fax: 222 518 997
Tel: 222 513 641
 
Sportovní centrum Letnany
Address: Tupolevova 669, Praha 9 - 199 00
Fax: 286 920 030
Tel: 286 920 029, 286 920 032

Zimní stadion HC Kobra
Address: Mikuleckého 1584/1, Praha 4 - 147 00
Fax: 241 490 132
Tel: 241 490 085

Zimní stadion Hasa (na Folimance)
Address: Sámova 1476/1, Praha 10 - 101 00
Fax: 224 213 861
Tel: 271 747 128


Zimní stadion Nikolajka
Address: U Nikolajky 2214/28, Praha 5 - 150 00
Fax: 251 561 554
Tel: 603 219 715

Zimní stadion Štvanice
Address: Ostrov Štvanice 1125, Praha 7 - 170 00
Tel: 602 623 449, 602 201 372, 233 378 327

Školní zimní stadion Bronzová
Address: Bronzová 1387/37, Praha 5 - 155 00
Tel: 251 627 299, 235 012 428