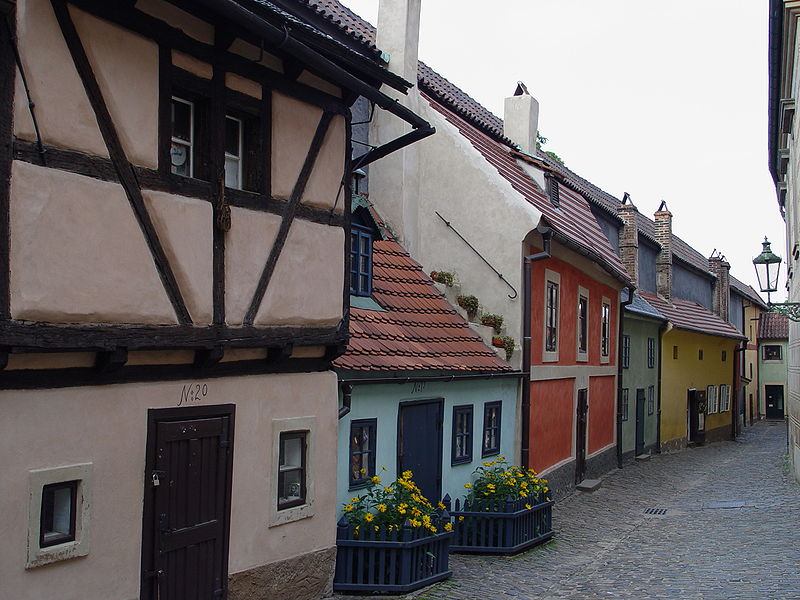 Credit: Maros M r a z (Maros) / CC BY-SA 3.0
The Golden Lane in Prague is one of few streets reminiscing us of the mythological era of fairies and dwarfs. Lined up with picturesque houses that rather look too small to live in, the Golden Lane is located in the northern area of the Prague Castle complex.
The first houses in the Golden Lane (Zlata Ulicka) were built in the 15th century after the construction of the northern fortification. Rudolf II allotted the residential space to his castle guards, but they were too many and the space was too little. They built these small houses with little windows which make them visually charming.
Golden Lane is referred to as the 'street of alchemists'. However, the alchemists never stayed in these houses. Alchemists and craftsmen occupied the lane where they turned metal into gold. Perhaps, this is why the lane is named 'Golden Lane'.

Since the 19th century, many famous people like writer Franz Kafka lived here, especially House no.22. It is said he wrote his book A Country Doctor during his stay in the Golden Lane.

Between 1952 and 1955 the houses were restored and painted in bright colours. They are now occupied by souvenir and book shops. Some of the historic houses even exhibit medieval armoury and textiles.

Entry to the Golden Lane is not free. Buy a single ticket to the Golden Lane or a combined ticket for the whole Prague Castle complex.

To enjoy the surreal atmosphere and know what the smallest street in Prague is like, book right away the next available flight to Prague. Couple them with Prague hotels booking and receive fantastic discounts.