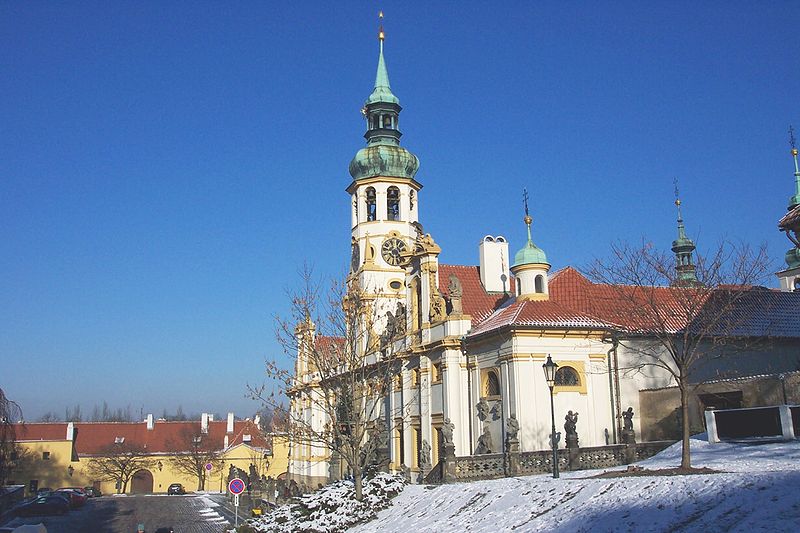 Loreto has witnessed the religious transformation Prague went through after the Thirty Years' War and is one of the most the important pilgrimage sites in Europe for the Catholics.
Construction work began in the month of June, 1626 on the order of Baroness Katharina von Lobkowitz who desired that the Czechs be attracted back to the Catholic branch. Soon after the construction, the battle of White Mountain followed when the Catholics took back the power from the hands of Protestants. The Loreta dedicated to the Shrine of Virgin Mary is a huge complex comprising of churches, fountains, cloisters, a bell tower and several chapels visible in their full Baroque splendour.

Visiting the Loreto:

The Loreto pilgrimage site is a self-sufficient site of buildings at the centre of which is a replica of the house of Archangel Gabriel where Virgin Mary is supposed to have appeared. While visiting the Loreto, first pay a visit to the Santa Casa. Originally thought to be transported from the Nazareth by the Angels, this two-storied structure contains an altar surrounded by walls decorated by 17th-century stucco frescoes.

The cloister is an excellent place to gaze at the bright frescoes. Centuries before, the cloister harboured pilgrims, but today it hosts a number of exhibitions throughout the year.

Visit the six chapels dedicated to St. Ann, St. Joseph, the Holy Rood, Our Lady of Sorrows, St. Anthony of Padula and St. Francis Seraphim. Four of the chapels are located in the corners of the oblong arcade whilst the remaining two chapels are on the either side of the main entrance.

As you enter through the main entrance, visit the 18th century Church of the Nativity located behind Santa Casa. The church contains a main altar flanked by two small altars. Appreciate the beautiful Renaissance and Rococo paintings as well as the clothed skeletal relics.

The Loreta's main attractions are its Baroque Bell Towers with a carillon of more than thirty bells play every hour since August 15, 1695. If you happen to visit this place on time, listen to the synchronized tunes.

If you are a staunch Catholic, the Lord's Birth Church holds its holy mass at 6.00p.m. every Sunday, while the Santa Casa holds it every Saturday at 7:30p.m.

Opening Hours:

WINTER PERIOD (1st November - 31st March)
Mon - Sun  9:30 - 12:15 a.m.  and 1:00 - 4:00 p.m.

SUMMER PERIOD (1st April - 31st October)
Mon - Sun  9:00 - 12:15 a.m.  and 1:00 - 5:00 p.m.