Whenever in foreign countries no matter how long or short your stay is, having that country's currency in pockets is always beneficial.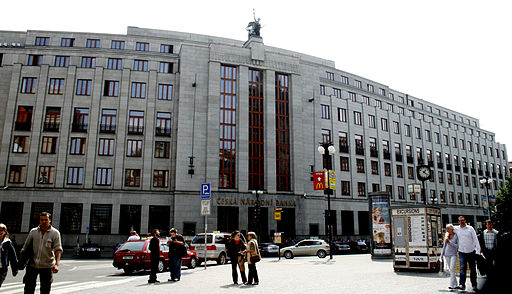 Image Credit: Creative Commons/Jarita
If you are in the Czech Republic, get your money changed to Czech Crown or Koruna (Kc), denoted by CZK.

Though the country is a member of European Union and so has started adapting to Euro, it is a wise and smart move for a traveler to have Korunas handy as Euro is accepted only in larger stores and food chains while small shops, restaurants or hotels still operate on Koruna which remains the official unit of Czech Currency.
Any foreign currency can be changed to Koruna or Crowns at banks or reputed exchange offices. Banks generally charge 1 percent or 2 percent as a commission and are open from Monday to Friday between the office hours. You can also use your own back cards from home to withdraw money from a Czech ATM. But, be advised to withdraw the required amount with one or maximum two withdrawals as each withdrawal in a foreign country is charged high by the banks.

If you want to exchange money outside of regular office hours or the generous rate offered attracts you, you can avail services of exchange offices.

Currency Exchange Machines are also one the best options as now you can exchange money using these exchange machines any time of the day, 365 days a year.

You can also convert your money into Travelers' cheques as Euro cheques are widely accepted in the banks of Czech Republic.

Any of the above options are good to exchange your money but you should certainly refrain from exchanging it on the streets. If you happen to do so, be sure that you are going to get ripped off!

If you want to know more about the country's economy, visit our economy page and check the exchange rate for foreign currencies, which are set by the Czech National Bank every working day, surf the internet for online currency calculators or converters.