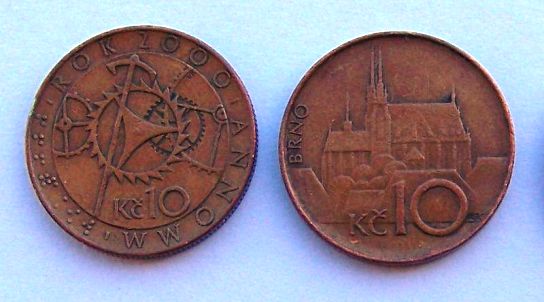 Prague, the capital city of Czech Republic,  is one of the famous places to visit once in a lifetime. It's a fairy tale city with a glimpse of old architecture, cobbled streets and golden spears. Visiting the city is quite peaceful if you keep detailed information about its money exchange so that you don't get cheated.
Official currency
The official currency of Czech Republic is the Czech Crown (Kč), which is internationally abbreviated CZK. The country is a member of the European Union (EU), but it will enter the Euro Zone (EZ) by the end of 2013 or in 2014.
In the Czech Republic, one Czech crown is divided into 100 hellers (h). However, the smallest unit of coin is 50 hellers and other coins include 1 Kč, 2 Kč, 5 Kč, 10 Kč, 20 Kč and 50 Kč. The banknotes are available in 50 Kč, 100 Kč, 200 Kč, 500 Kč, 1000 Kč, 2000 Kč and 5000 Kč denominations.
Exchange offices
It is always recommended to trade currency at exchange offices in banks. They may charge 2% or more interest rate, but you don't get cheated. Some banks also charge a fixed amount 50Kč if the calculated exchange fee for 2% comes less than 50Kč. Hence, it is better to enquire in the banks before you make any transit. Many hotels also provide foreign currency service, but they charge high interest. Never exchange your money on the street otherwise you may get cheated. Don't get lured to those schemes, which show 0% commission because they often buy foreign currency.
ATMs
There are several ATMs (cash machines) that accept all types of debit and credit cards like Visa, MasterCard, Plus, Maestro, Cirrus and much more. In the Czech Republic, you can travel, dine and shop by using major cards.
Travellers' cheques
Eurocheques are widely accepted in the banks of Czech Republic.
Get your bag packed to enjoy hassle-free traveling, right away book
flights
to Prague and avail hotels in Prague to make your journey memorable.