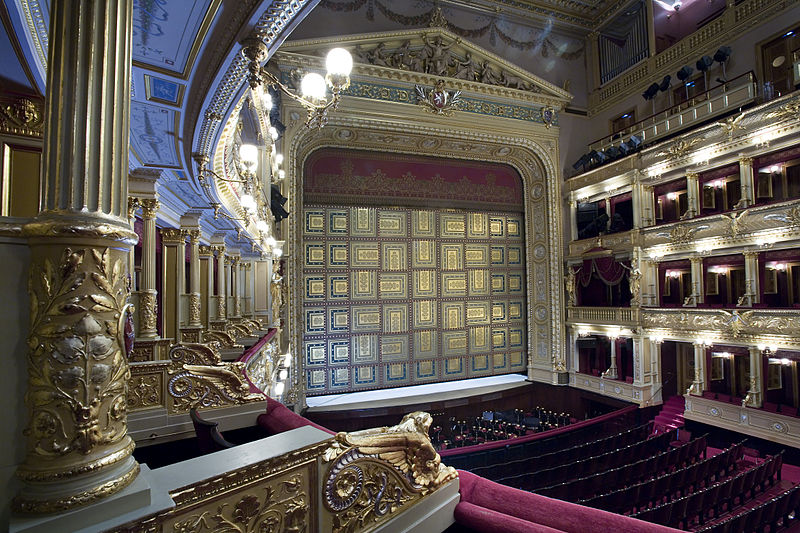 The National Theatre (Národní divadlo) is one of the important cultural institutions in Prague. It is treated as a national monument of history and art, which has consistently preserved the authenticity of Czech language and the classical forms of ballet, opera and drama. Along with the Theatre of the Estates and in the Theatre Kolowrat, regular opera performances are held at these three structural wonders.
History:

The construction of National Theatre in 1868-1881 mirrors the beauty of neo-renaissance architecture. Though the theater's initial years started on an unsteady note due to lack of funds, the spirit of unity among all the classes of society funded the construction. The year and date were noted in history as the day when one of Czech's prominent historical monuments would take form. And finally, the theatre held its first performance in the honour of Crown Prince Rudolf of Austria.

In 1881, the National Theatre suffered another blow when a fire destroyed a major part of the building bringing it to ruins. The copper dome, the auditorium and the stage of the theatre were totally damaged. People jovially put in their own funds and collected nearly millions of guldens in just 47 days. Architect Josef Schulz started the reconstruction of the theatre. He suggested an expansion of the edifice by including the blocks behind the Provisional Theatre. He managed to blend the three buildings in a unique architectural style.

From 1883 onwards:

The building was reopened on November 18, 1883, with a performance of Smetana's festive opera Libuše composed especially for this occasion. For almost hundred years the theatre continued to entertain with no major hurdles until April 1, 1977, when it was closed for six years.

The theatre was renovated once again by Architect Zdeněk Vávra in November 1983. The theatre was reopened with the performance of Libuše. 

Komerční banka, one of the main banks in Czech Republic signed an agreement with National Theatre to annually honour the best performances in three categories – ballet, opera, and drama. Along with a statue designed by Jaroslav Róna, each winner also receives 100,000 Czech korun.

Visit Prague to enjoy a repertoire of opera, ballet, and classical concerts.

Box Office Timings
Every day from 10.00am to 6.00pm, and 45 minutes before the performances.