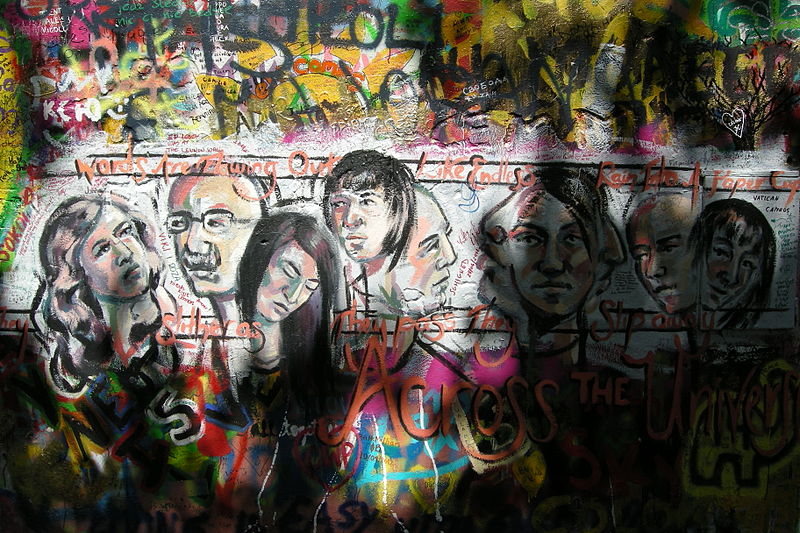 Credit: The painter (s) / CC BY-SA 3.0
If you want to do something offbeat in Prague, then check out the John Lennon Wall in Mala Strana, near the French Embassy in Prague. Though an ordinary wall in origin, it has gained significant historic importance over the years.
John Lennon was a pacifist hero to the young Czechs under the communist regime of Gustav Husak. The Czechs were banned from listening or playing Lennon songs which portrayed and gave voice to the idea of 'freedom'. Some were imprisoned for playing his songs. After his death in the 1980s the wall was painted with Beatles graffiti and a portrait of Lennon.
The communist government named these people as sociopaths, alcoholics, mentally unfit and promoters of western capitalism. Their graffiti on the wall was termed as 'subversive activities against the state'.
The Lennon wall
never remained blank despite many efforts of the government to whitewash the wall. Posting of surveillance cameras and night guards did not stop the Czechs from expressing their sentiments on the wall. The wall became a forum for the Czechs to post their grievances against the communist regime. Some even believe that the wall was a catalyst for the non-violent 'Velvet Revolution' that overthrew the communist regime.
Today, the original image of Lennon is lost because of new layers of paint. But the wall is still a platform for light graffiti and ideas of peace and love. The wall belongs to Knights of Malta, who tried to discourage the graffiti artists by whitewashing the wall, but the next day it was again full graffitis. The owners finally gave up and stopped whitewashing the wall anymore.