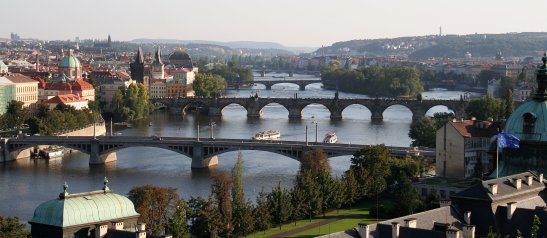 Image Credit: CreativeCommons/che
Prague is the heart of the Europe and the capital city of Czech Republic. Well-known for rich culture, history, and tradition, this unique gem is most popular for its beautiful monuments, magnificent architecture, and attractive gardens. Because of traditional significance and unusual historical importance, many sites of Prague are enlisted in the heritage list of UNESCO. Although the city is very popular for its old attractions yet it is in phase of modernity.
With luxury hotels, excellent restaurants, trendy pubs and remarkable clubs, the city defines actual meaning of blending urban culture into the essence of tradition. As a result of changing the atmosphere, the city is growing very fast with overall development in all spheres of progress. Thousands of travellers visit Prague in searching for complete relaxation and enjoyable holidays. To make your journey unforgettable, you must do following activities.

Go back in history: Explore various places especially those which are mentioned in UNESCO heritage list. Plan a trip covering the Old Town, the Lesser Town, and the New Town. It is not possible to visit all sites in a day, therefore pre-plan your journey according to your holidays. To reduce confusion hire a guide, who can assist you while your journey. Don't forget to visit famous tourist spots such as the Prague Castle, the Charles Bridge, and the Old Town Square.

Ignite photography skill: The city is a treasury of beautiful scenic views, romantic places, and lush surroundings. These things are enough for anyone who wants to retry its photography skill. For those who get attracted to historic monuments and old architecture, they can click some snaps at famous spots. Click photos of romantic places of the Vltava Rivers and its surrounding areas.

Try a boating experience: Rent a boat to visit different tourist spots. Try to hear rafting sound of the boat sailing on the Vltava River. Visit in the month of April until the end of October to get full boating experience. Enjoy boat drive under the roof of the Charles Bridge in clear night sky. Get a chance to explore the beauty of the city along the river way.

Short historic tram journey: Planning to visit in summer, don't forget to take a trip by historic tram train. Enjoy every moment full of fun and great desire. Explore various places by affordable tram trip. The National Theatre, the Lesser Town Square, and the Wenceslas Square are major boarding points for tram journey.

Hangout at famous Czech pubs and cafés: Enjoy drinking at traditional Czech pubs with plain wooden tables serving glasses of the 1940s frothy Pilsner Urquell lager. For those who don't drink Prague offers excellent coffee and snacks served at famous cafés.

Try plenty of other things by just visiting in the city. Don't wait for anything right now e-book hotels in Prague and avail cheap flights to Prague to enjoy upcoming holidays.