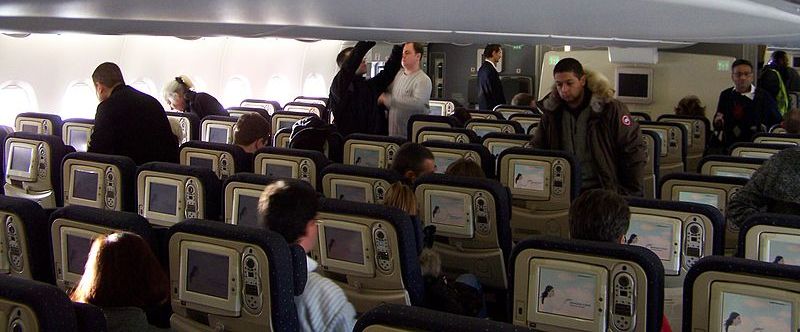 Travelling from one time zone to another involves the possibility of suffering from jet lag that even the most seasoned travelers don't escape completely. It is not just a matter of adjusting the time on your clock but also knocking sense into your internal clock. Your dream vacation or business trip may be completely spoilt if you leave the 'jet lag' ailment untreated. Rather than moaning on your hotel bed, here are some preventive measures for jet lag:
Modify meal timings according to the times of the destination. This may seem a little bit difficult at the start, but it will set off your body clock to the time zone of the destination.
Eat food that is low on carbs, sodium and fat but high on protein. While the protein provides the necessary energy, the low carb diet make you feel less slothful.
Eat foods peculiar to the area you are visiting. It is important to avoid culture shocks related to the cuisine when you arrive. Potential stomachaches associated with jet lag will also be kept to a minimum.
Get plenty of rest before departure. Keep clear of parties, binge drinking and immoderate amounts of coffee. You don't want to look like a zombie on the airplane.
Jet lag effect is seen to its maximum due to the dry, cramped space in the plane. To feel rested on arrival, increase your mobility by stretching and doing some yoga exercises.
Also, drink lots of water to hydrate your body. Stay away from coffee or beer as these can further dehydrate leaving you tired and dull.
Get some sleep as jet lag sufferers complaint of fatigue at odd hours of the day. So why not get some sleep aboard the flight? In addition, keep moving up and down the aisle to evade blood clots from forming in immobile feet.
Once you land, try to condition your mind positively instead of moaning of how dull you are feeling. Try to appreciate the new place and its beauty.
Due to jet lag, your body coerces you to sleep at odd hours. But do not give in. If it is getting worse, try power naps, but no long sleep.
Rehydrate and replenish yourself with vitamins, fruits and lots of water to maintain your energy levels and remain fresh.

So, the next time stops complaining in the room of your hotel in Prague about how jet lag is affecting you. Get out, feel the sunshine and start on your journey to visit Prague attractions.