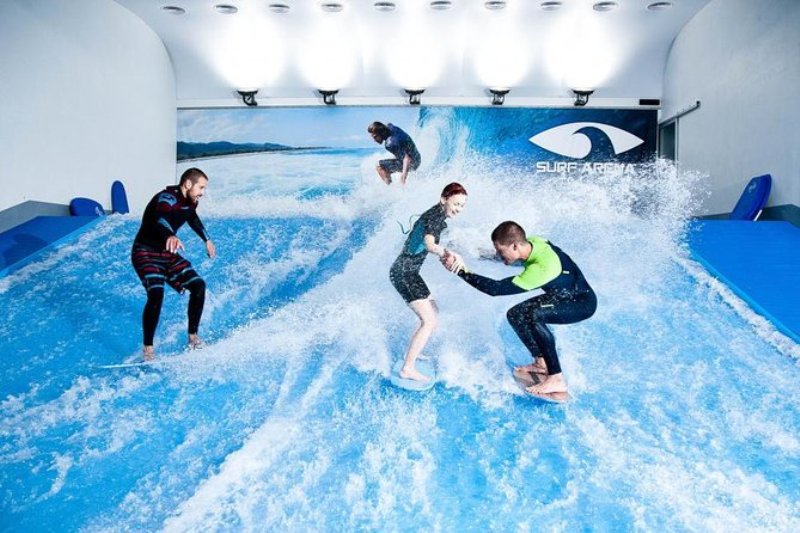 Travelling during the wintertime can be quite difficult, especially when it is too cold to enjoy the outdoor activities in Prague. Snow-capped attractions are beautiful to see, but when you are with kids, entertainment options get limited. We recommend trying your hand on indoor surfing so that you can experience the summer activity even during the harsh weather.
Compared to taking a trip to Bali especially for surfing, Prague's Surf Arena allows you to experience riding the wave indoors despite the harsh European winter. This indoor surfing arena is one of a kind space where skilled instructors and supervisors enjoy learning new skills navigating in the water.
The Surf Arena in Prague is a unique combination of a cafe, a bar and a music club along with a terrace to enjoy the view and the weather during summer. In a specially designed pool, a powerful water current is forced through creating waves. The session ideally lasts for about 2 hours, with 1 hour where you begin with safety instructions and surfing basics and postures. After that, you get 1 hour to ride the wave as you start with simple positions riding on your back or chest.
If you are a quick learner, you can also enjoy learning about more advanced positions like standing on the board and even performing tricks like saltos and flips. All you need for trying out this wonderful experience in Prague is to get your own swimsuit and toiletries as you enjoy your time in the water. Also, don't forget to get your own USB drive and grab a video recording of you surfing like a pro! 
Get a chance to try out surfing during the cold in Prague, by booking your tour and enjoying the best of both summer and winter activities.