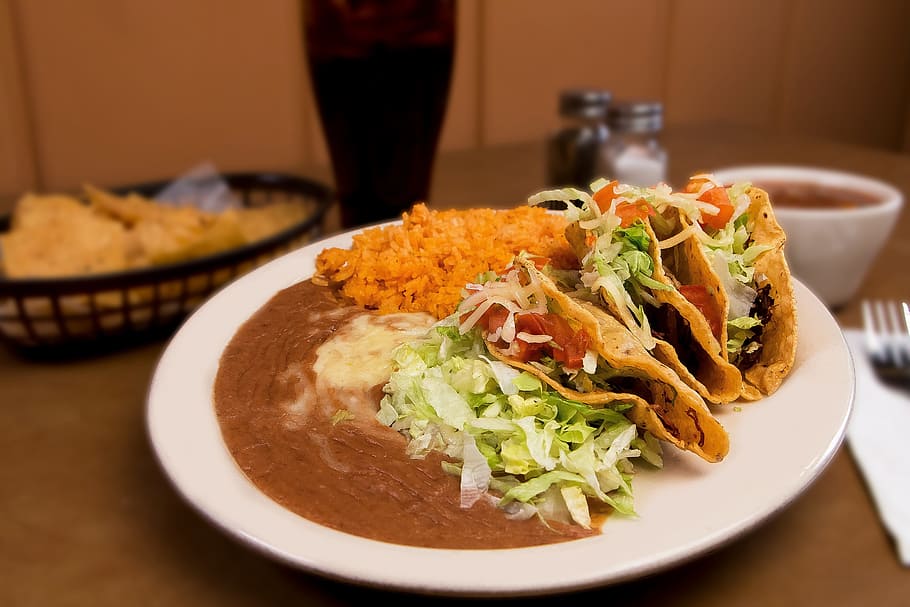 Mexico is the third biggest Latin American country, and the second most populated after Brazil. Its official name is Estados Unidos Mexicanos (United States of Mexico), and its capital city, Mexico DF, is one of the world's most populated cities.
Mexico is known for its temperate climate which makes it the preferred choice for worldwide tourists. But tourism is not the only representation of the country. Mexican gastronomy is also a charming factor for visitors.
Mexican cuisine is famous for maintaining its ancestral traditions and roots. In Mexican dishes, you can feel this country's history through its tasty and strong flavors. Most of its cuisine is based on native ingredients and on those brought by Spaniards during colonization. All Mexican meals are a perfect blend of native, French, Caribbean, and Spanish foods.
Mexican cuisine
Mexican gastronomy is distinguishable all over the world. It has been declared an Intangible Heritage of Humanity by UNESCO in 2010. Mexicans felt so proud of this recognition that they declared a National Mexican Gastronomy Day, celebrated each November 16th since 2016.
Mexican cuisine is full of diverse flavors based on the use of ingredients like corn, beans, chile peppers, rice, avocados, tomatoes, meats, cheese, and herbs like cilantro and oregano.
Their dishes are very copious and are eaten all day long. For example:
Chilaquiles: Fried tortillas served with hot sauce, shredded chicken, chorizo, beef, and eggs.

Tacos: Corn tortilla filled with various ingredients: beef steak, chorizo, pork, chicken, vegetables, beans, rice, and condiments.

Burritos: Flour tortilla cylindrically rolled and filled with beef, chicken, pork, rice, beans, lettuce, tomatoes, cheese, pico de gallo, or guacamole.

Tamales: Corn-based dough filled with various ingredients like meats, beans, and cheese, and cooked in banana leaves or corn husks.
You can eat all these traditional dishes for breakfast, lunch, or dinner, as appetizers or even as main dishes.
Do not think these are all the meals Mexico has to offer. Its culinary menu includes a rainbow of flavors.
Lunchtime is when Mexican cuisine shows all its variety of tastes. Most meals include tortillas, beans, rice, cheese, and any meat, served with different sauces and garnished with fresh herbs.
To name a few: Pozole, a corn soup accompanied with radish, cabbage, oregano, lime, tostadas, and red or green sauce. Cochinita Pibil, roasted pork marinated in the juice of oranges. Carnitas, shredded pork served with chopped cilantro, onions, hot sauce, guacamole, tortillas, and refried beans.
 All of these mouthwatering meals are accompanied by side dishes like rice, vegetables, and extra sauces. The most common side dish you can find in every house and restaurant is rice.
Rice is one of the ingredients brought by the Spanish settlers during colonization. Since then, it has become a staple food in all Mexican kitchens.
White or brown rice is used as plain food, for accompaniment or fillings. You can also find it flavored with vegetables, herbs, and spices like the famous Arroz Rojo (red rice).
Try this recipe for a perfect Arroz Rojo
Red rice or Arroz Rojo is Mexican traditional rice which is named after its strong red color given by the use of tomatoes. It is cooked with broth, garlic, onion, and other vegetables such as corn, diced carrots, and peas. This dish reunites all Mexican flavors and makes you feel you are actually there. 
Every Mexican region has its version of Arroz Rojo, but the basic ingredients remain the same. If you want to explore more on the variations of Mexican rice, check Mexican Rice Recipes: How to Cook | Mahatma® Rice, and discover the countless options.
But if you want to start by cooking the traditional Arroz Rojo, try the following recipe:
Arroz Rojo
Servings: 4  |  Prep time: 5 minutes  |  Cook time: 35 minutes
Ingredients:
1 cup of long-grain white rice.

1/4 cup of olive oil.

1/2 diced onion.

1 medium diced garlic clove.

2 cups of hot water.

1/2 cup hot chicken broth.

1/3 cup of tomato sauce.

1 teaspoon of salt.
Preparation:
In a saucepan, pour oil and heat and medium heat.

Incorporate rice and cook until it is completely covered by oil.

Add onion and garlic, and cook until they are soft.

Pour 1 cup of hot water, ½ cup of broth, tomato sauce, and salt. Stir very well.

Bring it to a boil and simmer at medium-low heat.

Pour another 1/2 cup of hot water and cover. Cook until rice is tender.

Serve.