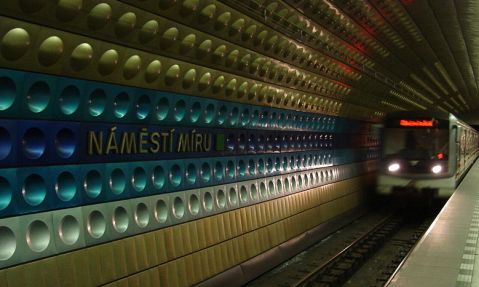 Image Credit: CreativeCommons/Firipu
Prague, a gem in the crown of Czech Republic, is popular for its art and artefacts. It is renowned for excellent gardens, traditional monuments, and heritage palaces. Traveling in the city is all-time favourite and pleasurable if you are aware of its main locations and sites.
Staying in the city is much enjoyable if you are familiar with the mediums of transportation. Depending upon the choice of mode of transport, you can save your precious time to visit more of tourist attractions or you can spend more hours in traveling in the picturesque city of Prague.
Modes of transportation in Prague

Bicycle: Visiting so many spots by bicycle can be a wonderful experience. One big advantage is its easy availability. It is also one of the cheaper modes of transportation. It is very useful for those tourists who are interested in budget travel as one doesn't require to spend on fuels for roaming in and around the city. In addition to that, it also guarantees a new trend of exploring the city. As a result of increasing bicycles in the city, municipal officers are trying to figure out much of the safety methods so that one can enjoy a safe bicycle ride in the city. Many provisions are already been offered to control bicycle traffic on the roads in Prague.

Taxi: Much of the reformation is being taken to improve the condition of taxi service in the city. One big step is being taken by introducing 'fair place taxi' concept by the Prague city council. This type of facility is available at taxi stands where you are assured to get reliable and quality services. For customers' convenience, major companies have the facility of call centers. Special taxis are easily detectable because of yellow colours. Vaclavske namesti, Franz Kafka Square, Marianske namesti, Na Perstyne and Staromestske namesti are some of the popular taxi stands in Prague.

Rental car: Exploring the city by rental car is very enthralling experience, but you must know some facts about basic traffic rules. The city follows traffic rules same as in most of the other European countries. Since Prague follows right-hand traffic regulation, vehicles are required to drive on the right side unless overtaking. One must wear seat belts while driving in towns and villages as well and must follow the speed limit. for passenger vehicles, this speed limit is up to 90km/hr. Alcohol consumption while driving is totally prohibited. If you are driving on the highways, then you must use special toll stickers that are easily available at border crossings, post offices or fuel stations.

Train: The city has fully-maintained rail transportation with four major railway stations such as Hlavni (Wilsonovo) nadrazi (the Main Railway Station), Masarykovo nadrazi (Masaryk Railway Station), Smichovske nadrazi (Smichov Railway Station), and Praha-Holesovice. These railway stations are a lifeline of the city and serve thousands of passengers. Prague has a wonderful European EC train Network with a maximum speed of 120-160 km/hr.  And connects the city with many European cities such as Berlin, Munich, Vienna, and Bratislava etc. Night trains enable you to visit other nearest cities such as Frankfurt, Amsterdam, Zurich, and Basel etc. The Praha hlavní nádraží is a central point for the arrival of all international trains.

Bus: Tickets are available at the kiosk near Bus stops. One can also buy a ticket from the bus driver, but it a bit more expensive. Traveling in the city is a bit cheaper unless you don't forget to buy a bus ticket as failing to buy a ticket may create troubles as you may have to pay fine. Foreign currencies for buying a ticket are not accepted by the bus drivers. Some famous bus stations are Florenc, Na Knizeci, Holesovice, Roztyly, and Cerny Most. However, Florenc is the main bus station for international buses.

Many parts of the city are also served by underground trams and metros while air travel is preferred in cases of the distant journey.  Praha Ruzyně airport is located around 20 kilometers from the city center on the northwest outskirts of Prague. E-book Prague flights as well avail hotels in Prague.