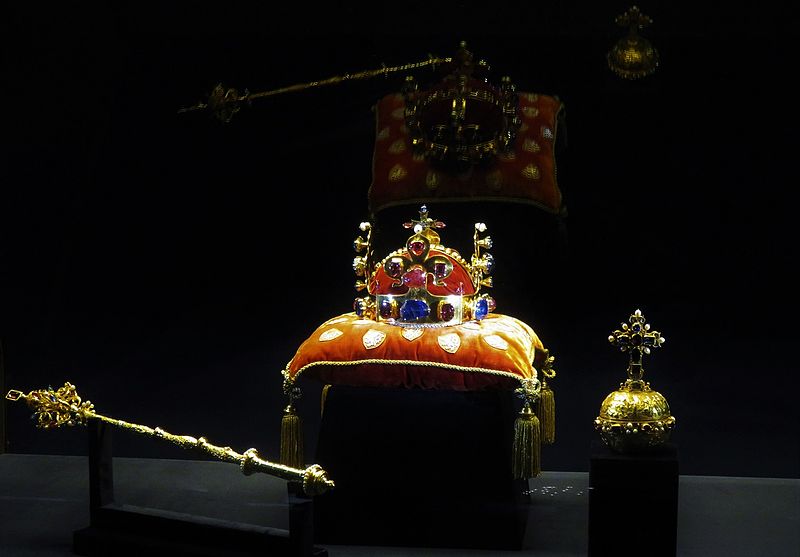 The Bohemian Jewels of Prague are valued not only for their intrinsic value but also for their prominence in the history of Prague. These jewels studded with precious stones & pearls are made from pure gold. The Prague Castle makes the perfect setting to store the royal jewels. These are displayed only on rare occasions and are under heavy protection.
There are seven locks that need to be opened before the jewels can be accessed and there are seven different people holding the keys. So it is virtually impossible to get to the jewels unless all the seven people, ie the President, the Prime Minister, the Archbishop of Prague, Chairman of the House of Deputies, Chairman of the Senate, Dean of the Metropolitan Chapter of St Vitus Cathedral and the Mayor of Prague come together open the locks.
The Royal jewels of Prague consist of the St. Wenceslas Crown, the Royal Apple, the Royal Sceptre and the Coronation Cloak. These royal beauties were displayed when Czechoslovakia became an independent Republic and came to represent the statehood of the Czech Republic.
The crowning glory of the jewels is, of course, the St Wenceslas Crown. It is named after the patron saint of the Czech lands, Saint Wenceslas from the Přemyslids dynasty of Bohemia. An ancient Czech legend says that offender of the Czech lands placing the crown on his head is certified of death within a year.
The Crown jewels mesmerise and hypnotise not only by their beauty but also by the trials and triumphs of the Bohemian lands, that are deeply etched in them. To get close and about this beautiful historical legacy of the Bohemian lands, visit Prague by booking cheap
flights
to Prague this season.