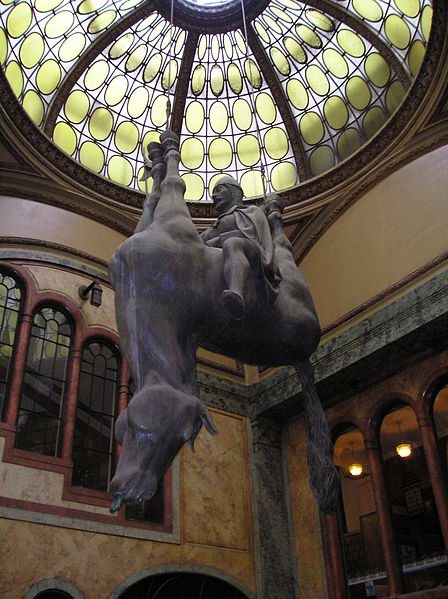 It is still fairly easy to trace the route of Vaclav Havel, the former Czech President in Prague. To understand Havel is to understand Prague in all its complex ironies. Many artists and dissidents fled to the west during the dark communist regime. However, Havel remained faithful to the city of his birth even during this darkest hour.
Havel's favorite haunts in Prague can still be traced and you don't even have to worry about some communist spy, keeping watch over you. The Lucerna Palace was built by Havel's father, a real estate developer, during the 1920's. This was a popular haunt in the old days for the cream of the society. The property was lost to the communist regime and handed back to the family only afters its fall. A highly covered family feud about the property followed. Today Lucerna is home to two grand cafes, a cinema, a dazzling ballroom and a funky music club. It also has a statue of Wenceslas sitting astride on a horse that hangs upside down from the ceiling.
The Barrandov Terrace is a sad reminder of the destruction of dreams by the communist regime. It was once a dazzling Art Deco resort, placed in a cliff. Sadly unlike Lucerna, it was past the point of restoration after the fall of the communist regime. The fences hinder close inspection of the property but the scene from the Vltava River is enough to make your heart ache.
The baroque balcony from the President's office at the Prague Castle was witness to his first moving inaugural speech as President. 
The apartment block by the riverside near the dancing house remained the residence of the President and first lady till the year 1995.
Visit
Prague
to know the many facets of the interesting history of Prague.