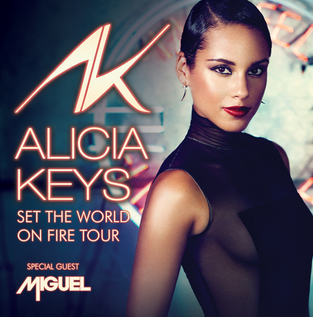 Alicia Keys, singer, songwriter, producer and 14-times Grammy winner, released her most anticipated album "GIRL ON FIRE", a few months back at the end of 2012. Now, the singer is all set to support her fifth studio album with the worldwide
"Set the World on Fire Tour"
.
The dates for the European leg have been announced. Following her performance at the O2 World in Hamburg, Germany, Alicia Keys will take to the renowned O2 Arena in Prague on
12th June, 2013
.
All you Alicia Keys fans will certainly want to embrace her musical journey and watch her performing to the latest hits from "Girl on Fire" and "New Day". But remember, pre-sale tickets for her earlier concerts sold out within hours. If you hurry now, you might be lucky to grab the best seats.
Venue
: O2 Arena, Ocelarska St. 460/2, Prague 9
Ticket Price
: Price: 1090 czk to 1790 czk
Tickets Sale
: Sazka
If you are interested in attending the event, book a
Prague hotel
at the earliest.
Image Credit: Alicia Keys Official Website