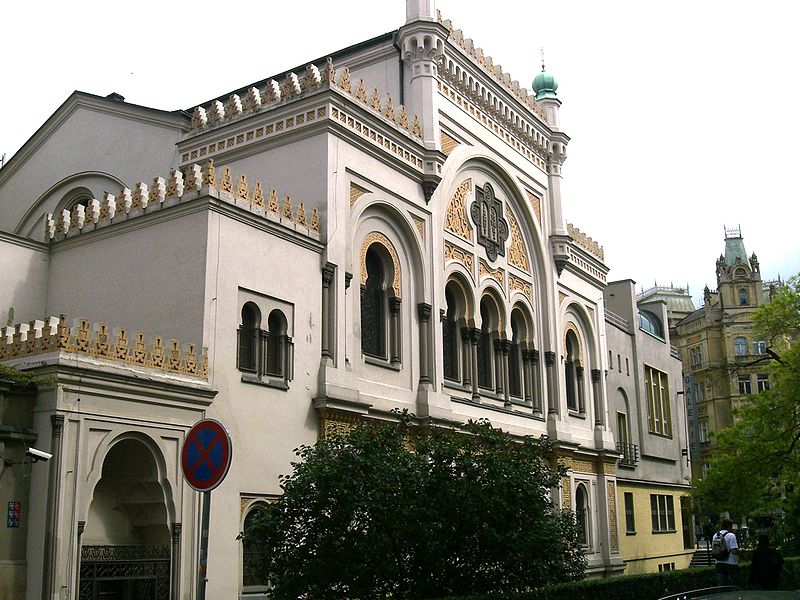 The beautiful Spanish Synagogue is a rare structure in Prague and also in entire Europe with its oriental designs and colourful stained glass.
It is one of the six historic Prague synagogues and was built in 1868. An excellent example of the Spanish-Moorish style architecture, the creation was completed in 1893, and then reinstated in 1990.
The square-shaped synagogue has a large dome over the central space, galleries on three sides. The carved and flawlessly painted dome ceiling gently takes us into another world. Designed by A. Baum and B. Munzberg the Moorish-Andalucian interior makes the sacred place even more enchanting.
The Spanish synagogue is one of the six monuments of the Jewish culture that makes up the Prague Jewish Museum. It shows the Jewish history of Bohemia and Moravia until 1945, the story of Czech Republic's Jews from their liberation to the current times. The museum displays 6,000 and more items that symbolize the work of the central European goldsmiths and silversmiths.
In the present times, the synagogue organises a service on every Saturday, along with a melodious classical music concert. While visiting the synagogue, do not miss the chance to see the sculpture of Kafka, which is located just a few steps away from the synagogue. The statue of a small Kafka riding on the shoulders of a headless, footless and handless, the giant is a sight to remember and ponder upon.
Don't miss to visit Prague Jewish Quater when you go to Prague.