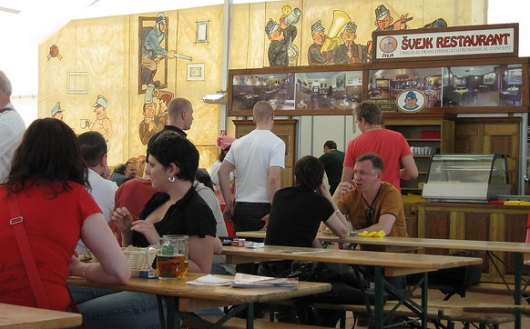 If you are going to visit Prague in the near future, chances are that you are going to go out in restaurants to have food very frequently, which is why it is vitally important to understand the etiquette that tourists should follow when it comes to tipping.
The rules are slightly different for tourists than they are for the residents, as most residents of Prague tip small to moderate amounts, especially when they are eating at a lower end restaurant, or are at a pub. The general rule of thumb when a tourist goes out to eat in Prague is ten percent of the overall cost of the meal, for the monetary amount of the tip. This is a general rule to go by, so when you do happen to go out to eat, you should count on leaving at least ten percent, although you can go over if you would like.
Beware, as many
restaurants
in Prague are taking undue advantage of the tourists by claiming that the service cost is not included in the bills, which is so not true as by the Czech law the service is included. Also make sure to count your cash while handling a large bill, as the Check people are always short of change.
Prague is an absolutely stunning city, as there is a plethora of incredible architecture, beautiful scenery, great restaurants, and all sorts of other Prague attractions. If you are planning to come to Prague, you should absolutely check out the many Prague travel tips, which can be found online by doing a simple search.
This will give you a great idea as to what you should check out when you get to Prague, as there is such a huge volume of things to do that it is a great idea to do some research before your actual arrival. However, if you are the adventurous type and simply want to explore the area without having any plans, then that is also a great way to be spontaneous and discover
Prague
. Just make sure that you follow proper etiquette when you arrive in the city, as well as tipping your waiters the proper amount.