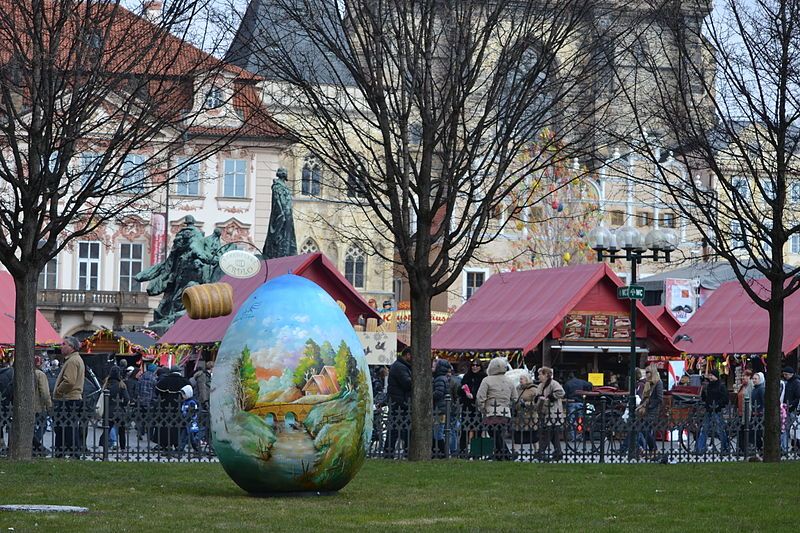 Credit: David Sedlecký / CC BY-SA 3.0
Easter is a perfect time to be in Prague to soak up the festive vibe and also to have a mesmerising vacation. You'll find plenty of things to do in Prague during Easter, and here's a quick roundup.
Prague Easter Market
The Easter markets in Prague brighten up the whole city. It's a perfect place for you to be in. The markets can uplift your spirit and you'll find plenty of souvenirs as well. The Easter market is organised every year at the Old Town Square and Wenceslas Square. You can look out for wooden hugs with a variety of handcrafted products like crystal and glassware, jewellery, embroidered cloth, candles and more. Remember to stop and sample the traditional Czech pastries called 'Trdelnik' - a treat you can't miss.
Festive Foods
Foodies, this one's for you! You cannot miss out on sampling food in the city during Easter. The food is quite influenced by the Christian traditions, and you'll find the Easter feast having various dishes centered on the lamb. Easter eggs are well-accepted gifts for friends and family. What's for dessert? The cakes baked into the shape of a lamb (beránek) or hot cross buns (Jidáš / Judas) is something to look out for.
Tour Prague
You are in the magical city of Prague and it's quite natural you must discover the magic of the city. The season during Easter is one of the best times to visit Prague. During spring, the weather in Prague gets warmer which is quite ideal for sightseeing. You can expect highs of 11°C (51.8°F) during the daytime and lows of 2°C after dark (35.6°F). Plan a one-day sightseeing tour where you can enjoy the main attractions such as Prague Castle, the National Museum and more. Alternatively, choose a Private Walking Tour and enjoy the alleyways of the Old Town and also stop for some coffee.
Get ready to have the time-of-your-life in Prague during Easter. Plan to book your flights now, and have a wonderful Easter.