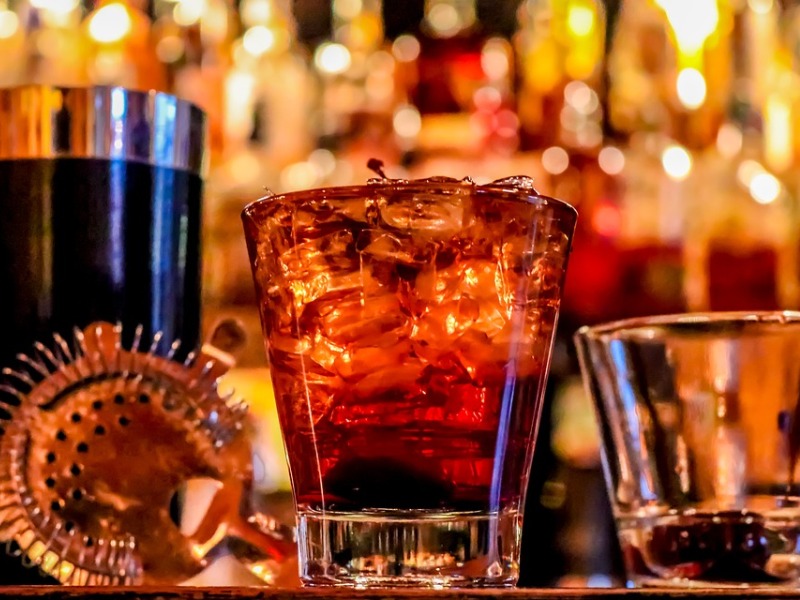 With the highest per capita annual consumption, the Czech Republic is rightly called the country of beer lovers. However, in just half a decade Prague has developed a robust cocktail bar scene. 
Previously, there were only a handful of bars where you could get staples like an Old fashioned. Now, you can sample relatively obscure drinks like the Martinez (widely regarded as the precursor to the Martini) or a Brandy Daisy at over a dozen bars in Prague. Local bartenders are innovating using homegrown ingredients and spirits like Czech herbal liqueurs, to bring their own twist to classic cocktails. Here's where you need to go to tap into the growing cocktail culture in Prague:
Groove Bar
One of Prague's hippest bars, this hidden gem is located behind the National Theatre. With a dark, seductive interior and a friendly young staff, this bar is one of the hotspots in town, especially on weekends. You can start your night with one of their signature gin-based cocktails or a shot of the whisky-infused Penicillin from their two-level bar. If you're a bit peckish, check out their excellent tapas menu and enjoy the latest in electronic music as you have a gala time here.
Black Angel's Bar
Black Angel's Bar is widely regarded as one of the best hotel bars in Prague. Located inside the Gothic cellar of Hotel U Prince, this bar has a prohibition-era atmosphere. The bar is known for its delicious cocktails and extensive whiskey list. If you're looking for something more contemporary to sip on, don't fret for they are connoisseurs of molecular mixology too. And when you've quenched your thirst on some amazing drinks, maybe groove to some piano and saxophone as your feet tap to some old school jazz.
Hemingway Bar
The Hemingway bar, named after the prolific American writer Ernest Hemingway, is ranked one of the top 50 bars in the world; the only one in Prague to achieve this feat. With the author's favourite drinks being the main focus, the bar has one of the most extensive collections of absinthe we've seen, over 200 varieties of rum (including a Rum Club) and a long list of sparkling wines and champagnes; they even make their own bitters. We loved their signature Hemingway Daiquiri made with Havana Club 3 Años rum. The interior is old school with a fine wooden bar, a few round tables, leather banquettes and the service is top-notch. Come down for a fancy cocktail experience; just make sure you abide by the few house rules. For example, wait to be seated and if you want to buy somebody a drink, you should check with the staff first, they will find out whether the person is interested. 
Can't get enough of Prague's nightlife? Head for a pub crawl around the city.