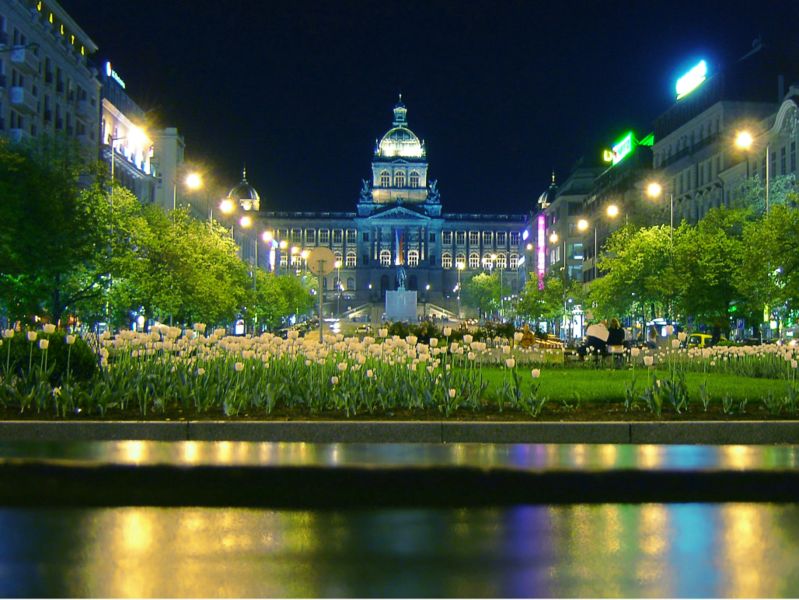 In 1348, Charles IV was immersed in deep thoughts racing from one side of the room to another to decide upon a dignified place for tradesmen and craftsmen to co-habit but it should be  enough to challenge the established Old Town Square - Charles Square (Karlovo namesti).  Charles IV had foresighted the ever expanding horizons of Prague city as the place prospered and flourished under the Holy Roman Empire. The flow of trade and business was mounting more than ever and traders needed a commercial space to burgeon. Charles IV excitement is reflected in the construction of the New Town between Vyšehrad and the Old Town as he personally took it upon himself to design the street layout as well keep an eye on the construction progress.
The New Town of the 14th century was quite modern for its time with large squares and boulevards dominating the place. Primarily, Nové Město adorned the role of housing three markets the Horse Market (
Koňský trh
) - now Wenceslas Square, the Cattle Market (
Dobytčí trh
) - now Charles Square, and the Hay Market (
Senovážné náměstí
) - still known by the same name. People traveled to and fro the markets on today's Vodičkova and Jindřišská streets.
The original Gothic architecture of New Town has much disappeared with renewed renovations at the end of the 19th century when the place had turned a haven for slum dwellers. The modern reflection of Nové Město pumps life into numerous businesses, hotels, banks, department stores, boutiques and small shopping malls. The place also exhibits its cultural side with the National Theatre and State Opera.
Places to visit during Prague Holidays
:
Wenceslas Square
Church of Our Lady of the Snows
Franciscan Garden
National Museum
State Opera
Church of St Ignatius
Jesuit College
Charles Square
Church of St Cyril and St Methodius
Faust House
Slavonic Monastery
Church of St Stephen
Church of St Ursula
National Theatre
The New Town is well served by three lines of metro - Line A between Mustek and Museum, Line B between Karlovo namesti and Florenc and Line C between I. P. Pavlova and Florenc. Furthermore, the Wenceslas Square is easily reachable on foot from the Old Town. One could also visit the official website of The Prague Public Transit Co. Inc, to collect information on the metro timetables. The New Town is also rich in tram network which is much denser than the metro network. Line 17 connecting New Town (Palackého nám. near Charles Sq., National Theatre) with Old Town and Line 22 connecting New Town with Prague Castle, Charles Bridge, and other tourist attractions are the important ones.