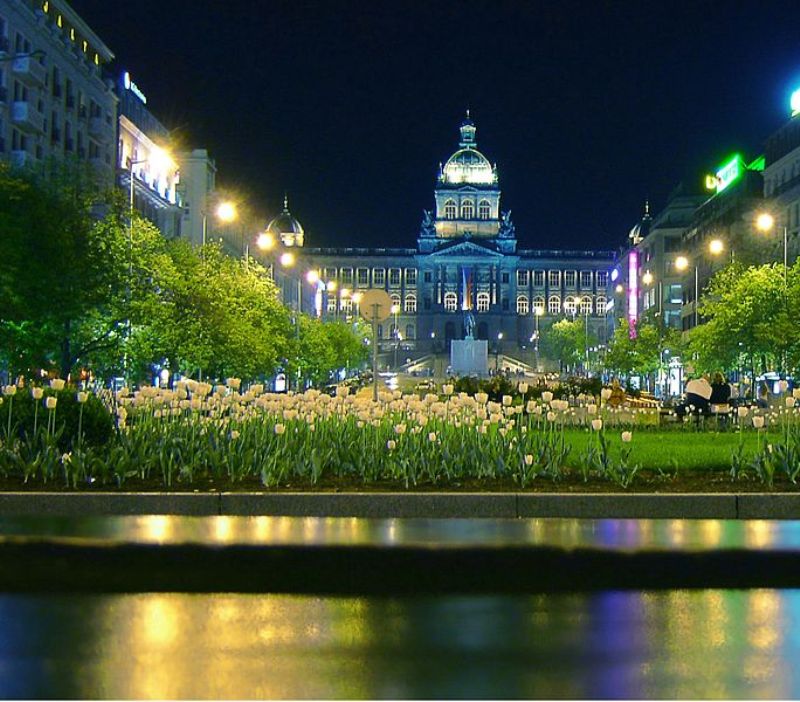 In 1348, Charles IV was immersed in deep thoughts to decide upon a dignified place for tradesmen and craftsmen to co-habit. Charles IV had foresighted the ever-expanding horizons of Prague as the place prospered and flourished under the Holy Roman Empire. His excitement is reflected in the construction of the New Town (Nové Město) between Vyšehrad and the Old Town, as he personally designed the street layout as well monitored the construction progress.
The New Town of the 14th century was quite modern with large squares and boulevards dominating the place. Primarily, Nové Město adorned the role of housing three markets the Horse Market (Koňský trh) - now Wenceslas Square, the Cattle Market (Dobytčí trh) - now Charles Square, and the Hay Market (Senovážné náměstí) - still known by the same name. 

The modern Nové Město pumps life into numerous businesses, hotels, banks, department stores, boutiques and small shopping malls. The place also exhibits its cultural side with the National Theatre and State Opera.

Places to visit in New Town:
Dvořák Museum
Dancing House
Jubilee Synagogue
National Museum
National Theatre
U Fleků beer hall
Žofín Palace
Squares
The horse market, today Wenceslas Square
The cattle market, today Charles Square
The hay market (Senovážné náměstí), south of today's Náměstí Republiky
The New Town is well served by three lines of metro - Line A between Mustek and Museum, Line B between Karlovo namesti and Florenc and Line C between I. P. Pavlova and Florenc.
Furthermore, the Wenceslas Square is easily reachable on foot from the Old Town. One could also visit the official website of The Prague Public Transit Co. Inc, to collect information on the metro timetables. The New Town's tram network is much denser than the metro network. Line 17 connects New Town (Palackého nám. near Charles Sq., National Theatre) with Old Town and Line 22 connects New Town with Prague Castle, Charles Bridge, and other tourist attractions.