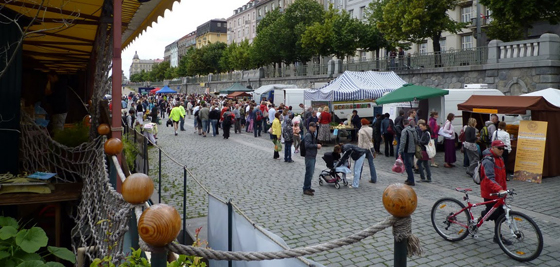 Náplavka is a traditional farmers market located off the Vltava riverbank in
Prague
. The name which literally translates to "at the riverbank" is a great place for tourists as well as residents to stroll and buy some fresh foods for the family. It is the most central market in the city and makes for a great weekend outing.
The Náplavka market features some interesting artisan shops selling both food and artisan goods from local people. Depending on the season, tourists will get to bask in a whole new environment of fresh seasonal fruits & vegetables, fish, meat and dairy products. Seasonal favorites such as fresh green asparagus from Mělník, strawberries from Kunratic and freshly picked fruits are a rage here. The baked goods sold at the market are sourced from local bakeries and therefore much better in quality than those sold in grocery stores. Shoppers can also shop for dairy products, eggs, cheeses and fresh milk that are of significantly good quality. The vibes at the farmers market are very positive and relaxed as you see the sellers enthusiastically promoting their goods along the way helping the economy and reducing the carbon footprint.

Other than food at the Náplavka market, there are various artisan stores trading in local stained glass artifacts, ceramics and metal works. Feast on Czech delicacies and local brews at the numerous pop-up restaurants, on the way picking way Czech classic goods for your friends and family.

This autumn Náplavka Farmers' Market is open every Saturday from 8.00 am till 2:00 pm at Rašín's river bank, near Palacký's bridge. This October, the market is also hosting a beer tasting festival featuring small and mini Czech breweries on its grounds on 4 October (from 14:00 to 21:00) and on 5 October (from 11:00 to 21:00). Join in the gastronomic fun to savor a taste of Czech land!