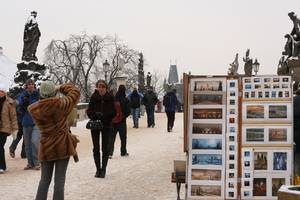 You've visited the city and fell in love with it. Now you can't just wait to make it your adopted home. Prague seems to have that effect on most people. Who wouldn't want to live among sweeping castles and quaint narrow cobbled stoned pathways anyway? Additionally the mysterious air of Prague makes you just want to unravel its secret buried in the past and hidden in the walls of the ancient structures.
Statistics indicate that while it may be difficult to find a job in Prague, it is not entirely impossible. The rate of unemployment in Prague is quite low. So if you give it a decent shot, you have a fair chance of making your dream a reality.

Members of the European Union do not require a work permit to work in Prague. Non-EU members, on the other hand do require a work permit to be able to work in Prague. It is more cautious and sensible to have an offer letter in your hand when you arrive in Prague rather than searching for a job after you arrive in the city. Jobs can be availed in many sectors such as retail, sales, real estate, hospitality, and education. There has been quite a high demand for English teachers in recent years. Availing jobs in multinational companies is also a feasible idea.

 The average salary in Prague before taxation is around ₤1000. For citizens of certain countries, it is possible to obtain a green card which makes working in Prague relatively easy for them. Before taking any drastic steps be sure that you have gleaned the current information for working in Prague such as Prague visa and any other work permits that may be required.

 Alternatively, you can also set up a business in Prague if you are willing to go that forward.