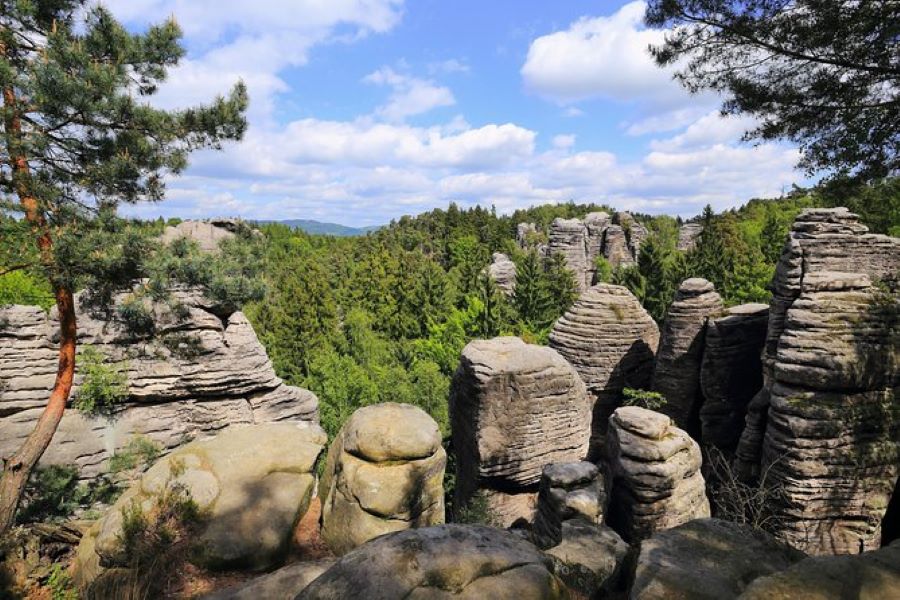 Prague is the best place if you are a hiking freak and a die-hard nature lover who loves to explore the beautiful mysteries of nature. Prague's picturesque views and charming scenery, clean and clear cobbled streets, green and hilly countryside trails leading to mysterious castles attract hoards of hikers from all corners of the world.
To help the hikers and promote hiking, KCT (a trailing club in the Czech Republic, 'Klub Ceskych Turistu' a name literally means 'Czech Tourist Club') started putting coloured markers on the paths and trails all around the country. Today Czech Republic has 37,000 kilometers (22,940 miles) of hiking trails, all marked by KCT.
Red, blue, green, and yellow bands on a white background
symbolize different types of trails. Longer and main hiking paths are usually indicated by red and blue marks while yellow and green marks indicate connecting trails. Other than the known horizontal bands, there are other markers which indicate lookouts or the end of the trail. KCT's maps not only show the colored lines or bands corresponding perfectly to the actual markers on the trails, but also show little red tents and small red rectangles with a flag coming from one of the tops which indicate camping grounds and places to stop for snacks and drinks respectively.
Here is a list of some best regions ideal for hiking:
1. Beroun Region
2. Czech Paradise (Český ráj)
3. Krkonoše National Park
4. Kokořín Region
5. Macha's Region (Machův kraj)
6. The Prague-Vienna Greenways
7. Lada's Region (Ladův kraj)
8. Czech Switzerland (ČeskéŠvycarsko)
9. National Park Šumava
Get ready for hikes near rolling hills, forests, mysterious castles and free-flowing Vltava River in Prague.  A hike where you get a chance to board a local means of transportation, have a meal in a rustic atmosphere, get closer to nature to enjoy its beauty, wonders and surprises.
The most important thing to remember, ripping off nature by scratching out on the stones or tree trunks or plucking the flowers, shrubs as souvenirs of your hike is certainly not a great idea. Most of the hiking spots in Prague and Czech Republic sell hiking badges i.e. small wooden discs with the place's name and an image on it.

So, board a flight to Prague and go hiking in and around the fairy-tale city and collect as many hiking badges as you can!